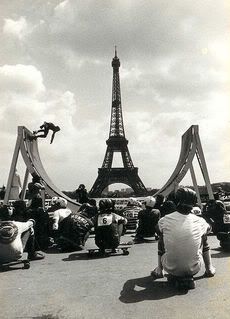 Sooo, I recently got back from the best weekend away in Paris ever. Mainly because the passengers on the trip consisted of borderline alcoholic Kingston University students...
I found some pretty interesting stuff on my two day adventure, including a Chicken Shop on Boulevard de Sebastapol (handy to know...) I should have got some hot wings but instead I lived on cigarettes, coffee and croissants for the entirety of the trip.
One thing I did love about Paris is that there is AMAZING graffiti everywhere you go. I saw very few shit throw up tags the whole time I was there.
.....and there were also some amazing shops. The first shop I found was this SICCCKKK place on Rue Saint Denis (off Boulevard de Sebastapol) called Ruffneck. They stock loads of hip hops favourite brands and have the most amazing baseball jackets ever for like 55.00 €. For some reason every sportswear shop had SOO much DC stuff. They love up DC en Francais.
On my way to find Rue St Honoure coming from Rue de Rivoli, I found Deep Store on 36 Rue Bourdonnais. Tucked away on some random little lane this shop had an amazing selection of Nikes..esp the limited Air Jordans. They also stocked some great New Era fitteds and WESC stuff..but what the hell is with all the damn Franklin and Marshall??
I also found the Paris Carharrt and Vans Stores right next to each other. On Rue St Honoure once again...sick road to go to if you go to Paris trust...
This store (pictured below) was called CELL DVSN. CELL DVSN are a french streetwear brand and originated in Paris. They work with some of the best artists and designers in the world to produce some amazing print designs. A bit like a French Upper Playground. Check there website here
http://www.celldvsn.com/
The highlight of my weekend was incidentally bumping into the JC/DC store on Rue Vauvilliers. JC de Castelbajac is one of my FAVOURITE designers EVER!!! I was overly stoked on getting to see this parisian designers Paris shop, even if I couldn't afford to buy anything =(
So yes. I highly recommend Paris. For drinking at 11 am, chilling, skating, shopping and smoking!! The bars and clubs are amazing (but expensive), the whole city is chilled out and EVERYONE smokes. More to come on my visit to Palais de Tokyo!!